18 Dec

IMPORTANCE OF INVISALIGN SUCCESS AND TIPS TO MAKE IT WORK – ST. PETERS, MO

Invisalign is a modern alternative to braces that do not have any metal brackets or wires that helps in straightening the teeth. It is made of clear thermoplastic materials that are durable and flexible enough to correct malocclusions. In the past few years, the popularity of the Invisalign treatment has been growing steadily. Many people prefer it as treatment compared to traditional braces.

At Cardinal Dental, we understand that people always want to look and feel their best. We offer Invisalign as a solution for teeth imperfections such as malocclusions for people to attain straighter and healthier looking teeth.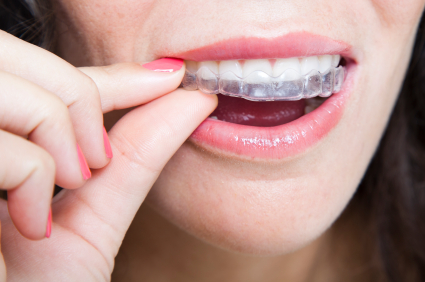 Why is it Important to Straighten Teeth with Invisalign?
Studies have shown that a beautiful smile can help build the foundation of trust, make people appear more attractive, make them look younger, and assist in the success of their career. Straightening the teeth does not only help improve the appearance of a person, but it also helps them in the maintenance of an excellent overall dental health.
Straighter teeth mean that every nooks and cranny can be cleaned properly. Malocclusions have portions in the teeth or mouth which are more of a challenge during cleaning. These portions are more prone to damage that can lead to multiple dental complications if left unattended.
Invisalign is an ideal straightening treatment since it is suited for teens and adults alike who want to receive an orthodontic treatment more discreetly. Teens and adults are more conscious on how they look which is why they prefer a better alternative to metal brackets, wires, and rubber bands in their mouths.
Tips for a Successful Invisalign Treatment
Make sure to wear the Invisalign trays for 20 to 22 hours a day. It should only be removed during eating, cleaning, and drinking beverages other than water.

Strictly follow the recommended schedule for replacing each tray which is typically every two weeks. Since the trays are provided by set and sequence, follow the correct sequence of the tray to ensure the effectivity of the treatment.

During cleaning, use a soft-bristled toothbrush and a gentle soap to make sure that the tray is carefully sanitized. Avoid the use of toothpaste since it has abrasive properties that can harm the aligner tray.

Use lukewarm water when rinsing instead of hot water since it can cause the tray to warp and be unwearable.

Schedule a regular appointment every 4 to 6 weeks for the dentist to keep track of the teeths movement and progress. Additional trays can also be provided by that time if necessary.
Invisalign treatment is a good solution for providing straighter and healthier looking teeth more comfortably, conveniently, also discreetly compared to other orthodontic treatments. Achieve that beautiful and healthy smile for excellent overall health and wellness.
Give your smile a boost! Book an appointment with Cardinal Dental and check out our Invisalign Aligners in St. Peters, MO. We are located at 1400 Triad Center Drive St Peters, MO 63376.